Finding Your Lost Pet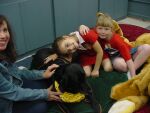 (Click on picture to enlarge)
Things To Do If Your Pet Is Lost
PRINT POSTERS WITH PHOTO AND DESCRIPTION OF YOUR PET AND GIVE TO POLICE, POSTMEN, SANITATION MEN, UPS DRIVERS, NEWSPAPER DELIVERERS, NEIGHBORS, STORES, SCHOOLS, POST OFFICE, VETERINARIANS, AND PLACE ON TELEPHONE POLES & LAMP POSTS.
CONTACT AND VISIT ALL REGIONAL ANIMAL SHELTERS REGULARLY. REMEMBER, PETS HAVE BEEN FOUND AFTER MANY MONTHS AND SOMETIMES IN SHELTERS FAR FROM HOME.
PLACE ADS IN NEWSPAPERS, PERIODICALS, BULLETINS, ETC.
IF POSSIBLE, OFFER A REWARD.
DON'T GIVE UP
YOUR PET IS PROBABLY LOOKING FOR YOU, TOO.