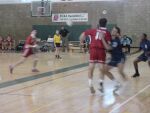 (click on pictures to enlarge)
TEAM USA AND THE DOG PROJECT
USA Team Handball Olympic players shown in the bottom photo above in blue uniforms playing against Team Canada, are often faster than the speed of light and sometimes just a blur, as is USA Olympian Joe Fitzgerald, shown on the top line playing in the Brazilian jungle. Several USA Olympians are Dog Project volunteers.
During the summer of 2003, "Coach Joe" taught team handball and the Golden Rule to hundreds of Long Islanders from ages 6 to 18, such as the participants at Manhasset's Hagedorn Family Center, pictured starting on the second line. The organizers (last photo on line four) of the Jackie Robinson team handball program for 5000 students in Brooklyn observed the coaching program at the Hagedorn Family Center.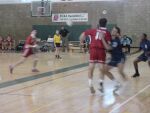 Team 2012
Team Handball is an incredible sport, one of the world's most popular, but there aren't many players in the United States. You and I and the parents, teachers, coaches and school administrators of Long Island, and the volunteers of The Dog Project will change that.
Between now and the 2012 Olympics, you can be part of something very exciting. We are going to make USA Team Handball the best in the world. We are going to bring Team Handball into our schools and make Long Islanders the best players in the world. And we are going to make sure that Team Handball players are the role models Olympians and all athletes should be. They will treat every person, every dog and all animals, and our planet the way each of us would like to be treated ...a way of life which will lead to greater success, happiness and fun in everything we do.
This is a great challenge. We're going to have a lot of fun meeting it. Are you with us?