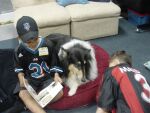 (Click on picture to enlarge)
THE DOG PROJECT aims to end the need to kill dogs, first on Long Island, then nationally. The full name of our all-volunteer, tax-exempt organization is The Dog Project and Cat Project, Inc., and we are beginning to work with cat overpopulation.
Based on discussions with expert individuals and organizations, nationally and internationally, and with innumerable dog and cat owners and responsible breeders, and our experiences in North Hempstead and on Long Island, we are proposing specific practical steps we believe will help end the need to kill dogs and cats. We've avoided the extremes on both sides in our desire to encourage solutions. Together, all of us can end the very costly, brutal and irrational practice of carelessly causing the births of too many dogs and cats. To compound the problem we set up elaborate, expensive procedures to round up the "surplus" dogs and cats, imprison them, feed them and kill lots of them. Let's have intelligent, effective legislation passed now in North Hempstead and then team up to work on what each of us can do to help dogs and cats who give so much. SEE PROPOSED LEGISLATION BELOW.


PROPOSED DOG AND CAT ORDINANCE
TOWN OF NORTH HEMPSTEAD
Whereas the overpopulation of dogs and cats in North Hempstead causes health, safety and humane problems and necessitates spending hundreds of thousands of North Hempstead tax dollars annually for animal control and euthanasia, the Town of North Hempstead, to help correct these problems, hereby orders that as of twelve months from passage of this law:
1) All dogs and cats of any and all ages sold by, adopted from or transferred by any and all sources in North Hempstead, public and private, other than by breeders licensed by the Town of North Hempstead, must be spayed or neutered by properly licensed veterinarians, and the dogs or cats must be medically certified as having been spayed or neutered before they can be sold to, adopted out to or transferred to any individual or entity of any kind.

2) Any individual, group, organization or entity breeding a dog or cat in the Town of North Hempstead for the purpose of sale, adoption or transfer to another party must first obtain a numbered annual breeding license from the Town of North Hempstead, at an annual cost currently set at $500, and the number of such breeding license shall prominently be displayed on all advertising and promotion and on the premises of the breeder. Each licensed breeder is permitted one litter per breeding dog or cat during a calendar year with no additional fee. For each subsequent litter of that breeding animal in the same calendar year, the breeder will pay a fee of $500 to the Town of North Hempstead. Each litter will have a license number that shall prominently be displayed in all advertising and on the premises of the breeder.

3) Any store or other establishment, organization or shelter, public or private importing or causing to be imported into North Hempstead any dog or cat from Nassau (outside of the Town of North Hempstead) or Suffolk Counties (NY), must pay to the Town of North Hempstead a fee of $250 per such animal; from all other areas a fee of $500 per animal. This fee does not apply to dogs and cats adopted from public animal shelters in Nassau and Suffolk Counties. Breeders licensed by the Town of North Hempstead may apply to the Town of North Hempstead for hardship permission to bring a limited number of approved dog or cat breeding stock into North Hempstead without paying such fees. The Town may also grant a waiver of such a fee in individual, unusual cases upon application from an entity for importation of a dog or cat involving special humane rescue or purpose.

4) It is illegal for any store, individual, entity or organization in North Hempstead to mistreat, improperly care for or intentionally cause injury to any dog or cat. Aside from necessary euthanasia by public entities or by private entities so authorized by the Town of North Hempstead, no individual, group or organization shall intentionally cause the death of any dog or cat.

5) Enforcement of all of the above provisions shall be by properly authorized Town personnel, animal control personnel, law enforcement personnel and by Town authorized organizations for this purpose, such as the SPCA and other organizations.

6) Penalties for violation of any part of this law shall start at $1000. per violation, escalating to $5000. per violation upon the third violation, and additionally, possible revocation of all licenses and permits to operate a pet-related business, shelter or breeding establishment upon the fourth violation.

7) No Town of North Hempstead funds shall be used to pay for any costs associated with this law. An annual budget for such costs shall be established each year and when such funds are in place, the terms of the law shall be operative and shall be enforced. These funds will be raised by private contributions, grants, donations of services, all fines and fees resulting from this law, and other such means. For example, each taxpayer can be given the opportunity on his or her tax form to voluntarily contribute a nominal amount to help fund this legislation to end the need to kill dogs and cats.